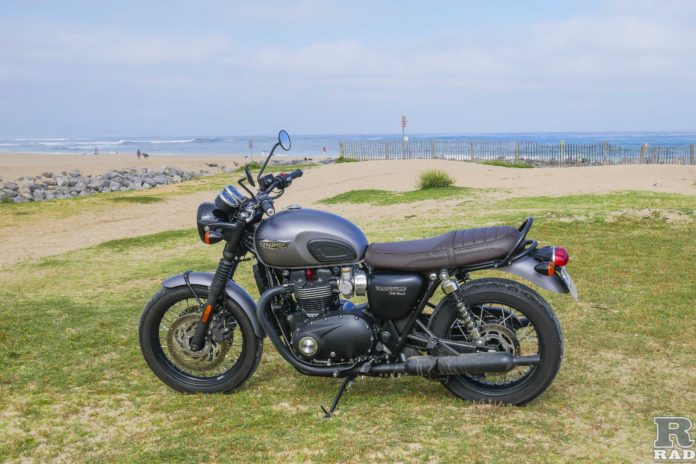 This New T120 is very attractive, in its category it fulfills absolutely the mission which is its own; It gives a lot of sensations and its 1200 cc's completely new bi-cylinder is responding at any rev. The throttle ride by wire offers the possibility of popping out of trafic with a surprising vivacité, the horspower are there, nothing supersonic, we're not on a Street triple, but frankly there's an strong answer. Braking system with its double discs is quite correct, that's what was missing the old versions and will continue to miss the street twin of the low range, but here, everything is ok. The only negative point here could be a very perfectible shock absorbing system and especially a fork that pumps so much and more, for a motorcycle of such power and weight, this may be a handicap. This road test gives us the opportunity to look at an article designed and manufactured in Italy by the company FreeSpirits to remedy this, unfortunately available only for the Bonneville ranges from 2001 to 2015, Thruxton 2004 to 2015, Scrambler 2006 to 2016, America, Speedmaster and then on the new street twin, street cup, street scrambler, the T100 from 2016 and the bobber.

 

Don't get me wrong, it's not a trick to add a shim on the spring but a complete system, 

conceived and build in Italy which allows for a much better response from the fork and greater stability of the front end.

We will see, step by step,
how to install this device

Unscrew the cap from the fork tube. Remove the spacer, spring and drain the oil.

Pull the fork tube and unlock the allen screw to remove the damping rod. Watch out! If necessary use the Special Extractor Code 301303.

For 790-865 cc models, deburr the inside of the hole as in the photo on the right.
For Models Since 2016, deburr the inside of the hole as in the photo on the right

insert reducer then lock the damping rod as photo.

Add the OEM oil or SAE10. Pump the rod down, slowly to vent air. Measure the amount from the top edge (Reffer to the chart on page 7). The measurement is carried out with the stem fully compressed.

Insert the valve into the spring. Be careful : if the valve does not block, lightly tighten the spring as photo.

Pull lightly, and check the valve slide as photo. Fit the spring in as pictured.

2016 and up models : Insert washer and spacer as photo.

790cc & 865cc, insert washer and spacer – Attention ! models with preload system have a disk washer on top of the spacer.

You'll find this item on clicking HERE, ask to your regular mechanic expert to order it for you and let him install it on your motorcycle.
Having the stem fully extended, refit the cap.